Who We Are
The Nyarkoa Foundation is a 501c(3) non-profit corporation that was chartered in the State of Alaska in January, 2007. Its officers/directors are Lewis Shapiro (Fairbanks, Alaska) President, Barry Shapiro (New York, N.Y) Treasurer, and Josephine-Mary (Josie) Sam, a citizen of Ghana who recently completed a PhD degree at the University of Alaska Fairbanks in Natural Resource Management, specializing in issues of rural development. Since the foundation was formed, all donations have been used for project expenses in Ghana. Administrative and travel costs have always been paid by the officers and that practice will continue.
The Foundation's partner in Ghana is a local non-governmental organization called the Rural Education and Development Programme (REDEP) whose officers and volunteers are residents of the Ajumako-Enyan-Essiam District. REDEP was registered as a non-profit charitable organization under the laws of Ghana in 2001. Its executive director is James Addo, the board chairman is Joseph Asmah and the program director is Bob Ebo-Cudjoe. REDEP has led, or been involved in, many development and educational programs in the District addressing topics including HIV/AIDS education, reforestation of stream banks and areas degraded by erosion, and environmental education in the elementary and junior high schools. The pictures below represent three of their programs; a grove of trees planted to prevent erosion, preparations for planting a vegetable garden at a junior high school, and tool sets for distribution to some schools to be used by the students for cleaning local public areas. REDEP organizes and manages our projects.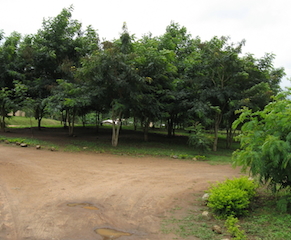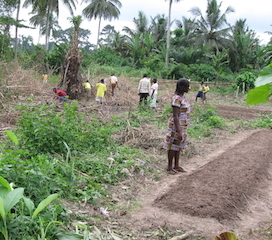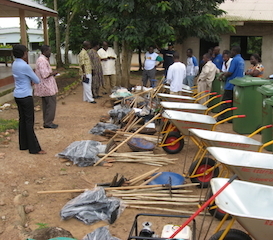 The Foundation also works closely with AMEFS Eng. Ltd., a Ghanaian engineering firm owned by Mr. Emmanuel Ansah. Part of the company business is hand pump sales, installation, and service and their staff has many years experience working with rural communities and teaching people there how to care for the pumps. They also have a contract with the World Bank on a program to improve water and sanitation facilities in rural Ghana. The contribution of their time and talents is vital to our program.
These pictures show our groups holding a planning meeting.