Welcome to Nyarkoa Foundation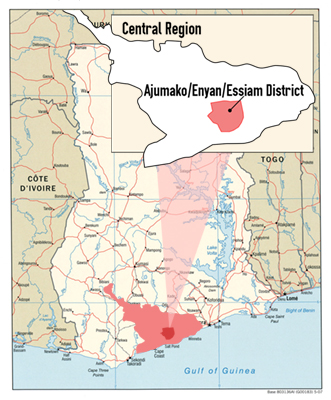 Nyarkoa Foundation is a non-profit corporation that was created in 2007 with the primary mission of helping to provide sustainable sources of clean water to the rural population of the Ajumako-Enyan-Essiam District of the Central Region of Ghana. Most of the rural villages in the District have borehole wells fitted with hand pumps, but the pumps break down with use and it can be years before they are repaired. The people are subsistance farmers and have little money to fix them and, since women are responsible for the family water supplies, the job of hauling water then falls back onto them and the children.
The Foundation aims to help the communities to keep their pumps working. We do this by conducting an educational program in each village about the importance of using clean water for individual and community health, and then helping the people to organize to save money for future pump repairs. In addition, we teach women in each community how to maintain pumps and who to contact when one breaks down. Since men often leave to find work elsewhere, teaching the women means that there will always be someone available to deal with problems with the pumps. Also, it gives the women some authority over water supply to go along with the responsibility for provide it.
To date, the Foundation has provided assistance to 18 villages with an estimated population of over 4,500 people. We visit all the villages regularly to support and encourage their efforts to maintain their pumps and, based on our recent funding levels, we do this at a cost of less than 3 dollars per person per year.
We have also completed projects to improve the water supplies in two residential high schools with 1500 students each, and in two health clinics that serve people from many communities. Those projects are described on the Other Projects page.
Our history, activities and accomplishments are described in our annual newsletters, which can be downloaded from the block at left.
We recently introduced a project to improve sanitation in two of the villages where we work, using the methods described in the internationally recognized program of Community-Led Total Sanitation. More information about the project can be found in our most recent newsletters.
More information about the Ajumako Enyan Essiam District is available here.     

The symbol in the banner above is called an "Adinkra" symbol. It is one of many ideographs (pictures that represent ideas) that are used by the Akan, the largest ethnic group in Ghana, in their art as well as everyday items. Its name in the Akan language means "chain" or "link of a chain." It symbolizes unity, brotherhood, and a sense of responsibility and cooperation between people. We have adopted this symbol as the logo of the Nyarkoa Foundation because that idea is what motivates us in our work.